The Silver Lining Foundation (SLF) would like to extend our deepest and most heartfelt condolences to the Smith family on the passing of their beloved son, Johnathan Smith. There are no words or emotion that fully conveys the sadness and grief we share over the loss of someone whom we treasured as a loyal ally, fervent supporter and amazing friend.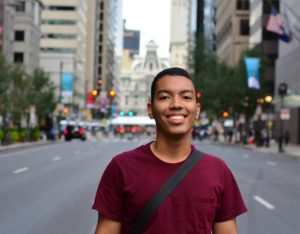 Photo: Johnathan Smith
We first met Johnathan two years ago when he approached us to contribute one of his compelling and beautiful paintings to the premier of our "Safe Space" short film and art exhibition on homophobic bullying. So thoughtful and empathetic he was towards this issue, he personally created one of his pieces specifically for this event which he entitled, "Ascent," saying it was his "interpretation of the isolation and loneliness felt by the LGBT youth in the context of Trinibagonian society."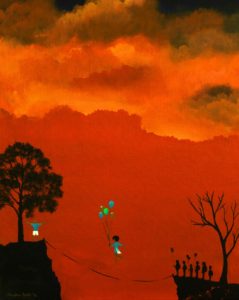 Photo: "Ascent" by Johnathan Smith
We were incredibly moved by his offer and amazed by his exceptional talent. We are deeply heartbroken by the news of his sudden passing. But when all the tears are dried and the goodbyes have been said, SLF proudly holds onto the happy memories we shared with our loyal friend, especially the love and compassion he showed for persons who society finds difficulty to treat with respect and dignity. We remember his open heart, astounding talent and his wonderful smile that set so many hearts ablaze with warmth, love and sincere kindness.
While his illustrious body of work speaks for itself, we believe his own words conveyed what he stood for in his life in the explanation of "Ascent":
"This is a piece (which) demonstrates a leap of faith into a better future, a future of inclusion, a future to which there are no conventional means."
SLF promises you, Johnathan, that we will continue to do everything in our might to help create the future you so beautifully painted for us.
Rest in love, rest in power and rest in peace, beloved Johnathan.