2019 National School Climate Survey Report
---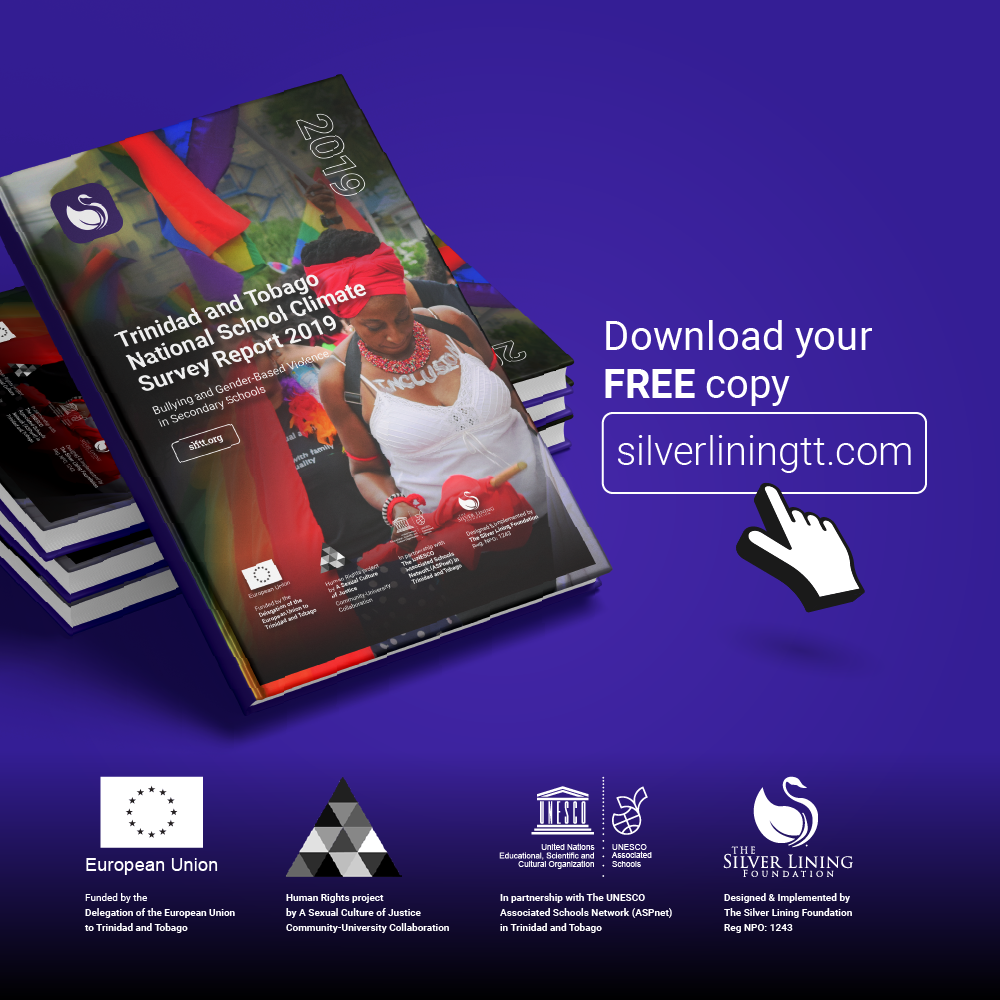 TRINIDAD & TOBAGO NATIONAL SCHOOL CLIMATE SURVEY REPORT 2019: BULLYING AND GENDER-BASED VIOLENCE IN SECONDARY SCHOOLS
The 2019 Bullying & Gender-Based Violence in Secondary Schools Survey Report is a follow up study to our 2016 study of the same name. Following approval by the Ministry of Education, SLF – in collaboration with the UNESCO Associated Schools Project Network Trinidad & Tobago (ASPnet) – 2,284 students from 39 schools across Trinidad and Tobago participated in the study, a sample size 3.5 times larger than the group surveyed in 2016.
The 2019 Bullying and Gender-Based Violence in Secondary Schools Report provides groundbreaking data and insight into bullying behaviours, outlining major findings in five (5) broad categories:
Bullying Trends
LGBTQI+ Exposure and Attitudes
School Climate
Self-esteem, empowerment and aggression
Social Support
Like the previous survey, this survey measured types of bullying students are subjected to and/or perpetrate. Potential differences in students' experiences were examined across various demographic spectrums, such as age, sex, sexual orientation, religion and parents' income levels. Themes from the previous survey and existing literature were utilized to design scales to assess predictors of bullying (perpetration and victimization), individual aggression and homophobia (recipients and perpetrators of homophobic taunts). These indicators provided greater clarity into bullying perpetration rather than victimization.
Based on the findings of the story, a number of recommendations are made including:
school climate reformation
incorporating social and emotional learning and social justice learning into the school curriculum
creating stronger support systems, and
fostering personal development.
This survey was successfully completed with funding from the European Union Delegation to Trinidad and Tobago as a part of the Sexual Culture of Justice Human Rights Project.
We invite you to download the 2019 National School Climate Survey Report on Bullying and Gender-Based Violence in Secondary Schools.
We encourage you to read the Press Release and share the Infographics to your social networks.
Sharable Infographics