Submission to the Joint Select Committee: National Security- Safety & Concerns of Citizens
---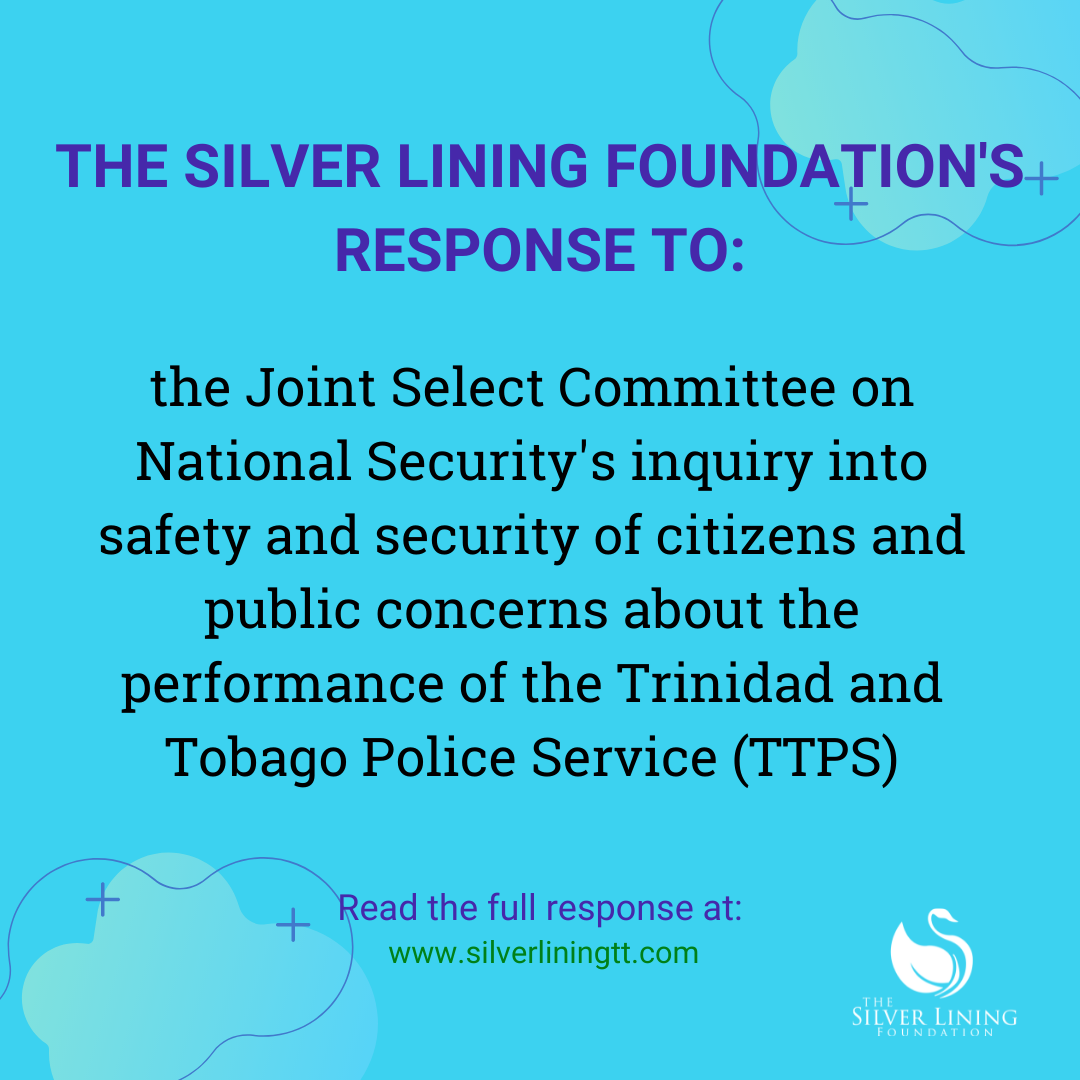 On June 18, 2021 the Silver Lining Foundation (SLF) submitted its recommendations to the Joint Select Committee (JSC) for the safety and concerns of citizens following the Ministry of National Security's call for submissions from the public and relevant stakeholders regarding the performance of the Trinidad and Tobago Police Service (TTPS).
The SLF highlighted in its submission a list of concerns and recommendations on various issues that we believe are in the interest of safety and security of all citizens. The main areas of concern and safety addressed in the submission were as follows;
· Sexual Assault and Rape
· Discrimination and Harassment by Police to Members of the LGBTQIA+ Community
· Suicide and Self Harm
· Treatment of the Disabled and Homeless Community
· Adding Support to the Gender Based Violence Unit (GBV)
Each of the issues mentioned above were assessed utilizing four (4) analytical pillars;
The public perception of safety and security in relation to the TTPS.
The public's primary concern about the performance of the TTPS.
The public's satisfaction with ease of access to TTPS services/responses and improvement of performance, and
Oversight and governance structure.
The submission is detailed in pinpointing the experiences of women and men in reporting instances of domestic violence, rape and revenge porn to the TTPS and the challenges they faced to make reports or obtain recourse or assistance. It equally highlights the stigmatization, ridicule and instances of abuse meted out to the LGBTQIA+ community, disabled and homeless communities and persons with suicidal tendencies by members of the TTPS. Recommendations such as; implementing adequate sensitivity, diversity and de-escalation training to TTPS trainees and officers, implementing zero-tolerance and non-discrimination policies within the TTPS and collaboration with mental health professionals, the LGBTQIA+ community, gender specialists and relevant stakeholders to address gaps in the law and enforcement and TTPS performance are just some of what was presented in the submission document.