#RaiseTheFlag
---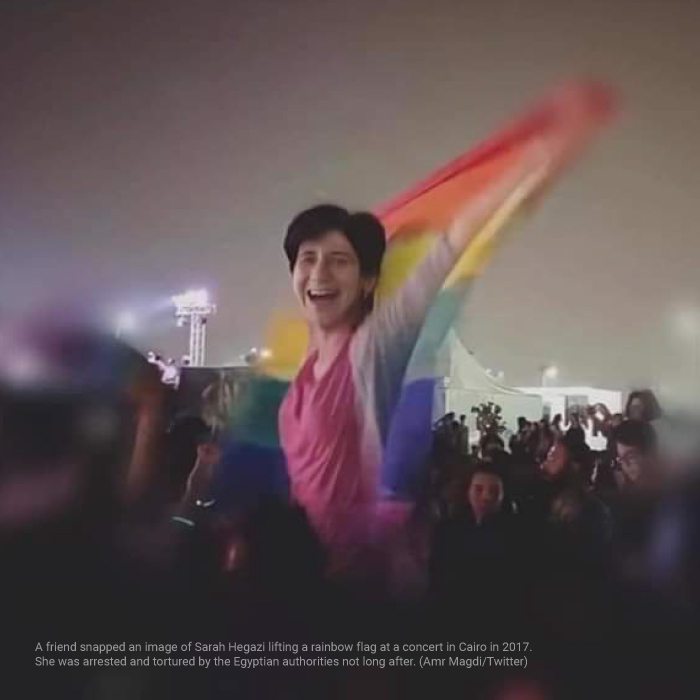 Written by: Scott Marchack (@thepsychtivist)

"To the world – you were cruel to a great extent, but I forgive."
These were the last words written by Sarah Hegazi before taking her own life.
Middle Eastern laws that criminalise "sexual deviance" and "debauchery" together with Egyptian president Abdel Fatah Al-Sissi's clampdown on free expression have been used to target and arrest queer persons. After her arrest for raising a pride flag at a concert in Cairo, Hegazi was allegedly tortured and sexually assaulted. She sought asylum in Canada, where her trauma reached its peak.
And across space and time, a similar occurrence echoes of a young man – George Kazanjian, whom we lost almost nine years ago. Despite there being no laws implemented that allow for the prosecution of queer persons in Trinidad and Tobago, there are existing laws that do technically criminalise same-sex behaviours and activities. For one, the Romeo clause criminalises same-sex activities between minors within the legal age range, while the Immigration Act bars homosexual persons from entering the country. And let's not forget that queer individuals are not protected under the Equal Opportunity Act. This makes it legal to deny persons access to opportunities based on their sexual orientation or gender identity. It allows employers to displace workers from their jobs on this basis.
However, we must also note that our nation is on the path to rectifying these institutional injustices, as made evident by the strike down of the buggery law in April 2018. In recognising, this we must call for our nation's continuation down this road, especially when we see clear infringements against human rights taking place in other parts of the world in such a physical and severe way.

Still, on both an individual and interpersonal level, social codes police our identities and punish us when we do not abide by them. And I have realised that trauma manifests itself in two major ways in this context. Either from the weight of carrying an identity that society has deemed "acceptable" for us – and the fear to explore outside of it. Or it manifests as a result of the hate and isolation that we are met with when we dare to challenge these codes; much like Sarah did. The result of these experiences is an internalisation that has the potential to become violent, especially towards oneself.
Mental health is still a very taboo subject for many persons in Trinidad and Tobago as well as the wider Caribbean. However, some people are ready to have that conversation and to create a more sustainable environment for it, but this discourse would not be complete without understanding how marginalised groups of persons are born into trauma. We must understand that there are unique modes of discrimination and thereby trauma for those who hold certain identities and that these are intensified when the same identities intersect.
So let's raise the flag for all those persons who may not have or feel the safety to express themselves as authentically as they would like to.
Raise the flag for George.
"Irfa'aou ala'alm liSara."
— Raise the flag for Sara.