Las Lomas Government School Anti-Bullying Campaign
---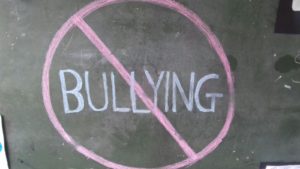 On Saturday 2 July, 2016, Kennedy Maraj, Vanita Benimadho and Poonam Singh attended the Las Lomas Government School Anti-Bullying Walkathon. It was primarily centred on raising awareness about the causes and effects of bullying, and how it can be combated with a community effort. The event was organized and spearheaded by the school's social worker, Christabel Paul, and her colleague, Rondell Bissoon. It was the culmination of a week-long anti-bullying campaign conducted by Ms. Paul. Some talented youths displayed their skills through art in a competition held during the campaign. They were excited to learn about our Foundation, and proceeded to leave their words of encouragement on our banner.
According to the principal, Mr. Krishna Soogrim Singh, the school has a history of a variety of bullying: physical, verbal, emotional and sexual. In recent years, however, and with the help of Ms. Paul, the instances of bullying decreased significantly, but still remains a major issue at the school, hindering learning and play.
Mr. Bissoon, who worked with Ms. Paul for a period of time at the school, related incidences where he, too, was bullied because of the students' perceptions of his sexual orientation. He also gave an account of an incident where a student was constantly bullied because of her religious garb and physical appearance. The student became helpless when the teacher she turned to for help did not heed her cries. That instance inspired the week-long campaign, and was really in honour of her. Unfortunately, she did not attend.
The Silver Lining Foundation is dedicated to providing support and education to such ventures that are in line with our framework. We welcomed the opportunity to work with Ms. Paul on her noble endeavour, and look forward to working with more schools and organization in similar efforts.
Here are some highlights from our time spent with the staff and students of the school:
Some inspiring art work by the students: