Bullies Are Made
---
Continuously, instances of bullying are not properly attended to or overlooked. The victim is labelled as the "bullied" while bullies are often glorified and praised among their peers, and punished by school administrators. But the root causes of such aggressive behaviour are never addressed. In Trinidad and Tobago, being a bully is often seen as "survival of the fittest", a misleading initiation into society. Bullies use intimidation and physical strength to belittle others and assert their dominance. It is of growing concern that the Minister of Education of Trinidad and Tobago, Mr. Anthony Garcia, has indicated that it is safe to say that bullying is not widespread. (http://www.newsday.co.tt/news/0,225660.html) This paradigm is not only misinformed but does not recognize how much a problem bullying really is in our schools.
To underscore the lack of significance placed on bullies, there are no current statistics indicating how the problem of bullying is resolved in the school system. The statistics that do exist are repetitive, and focus only on victims. It does not indicate why such behaviour is prevalent at such an alarming rate; there are no social statistics alongside the numerical. Such "statistics" come in the form of videos and stories posted on social media to the tune of onlookers crying shame on the bully, or others cheering on. At times these are reported in the news or on a talk show, which prove more effective when garnering the right audience, but still do not address the matter at hand.
With no information regarding bullies and their social situations, a solution is farfetched, and bullying will never end. Teaching our children how to avoid being bullied is only half of the solution. The other half requires understanding why it occurs, and to put programs and methods in place to mitigate and work with bullies to overcome their need to assert such behaviour.
For the holistic development of children in Trinidad and Tobago, all stakeholders that invest their time and energy into education and child development must come together to end the mentality that condones bullying in childhood. It is the business of every teacher, parent and government to create safe environments for each child, both for the bullies and bullied alike.
For more information on bullying, and for a directory listing of help centres, visit https://silverliningtt.com/wp-content/uploads/2015/12/BULLYING-101-Student-Handout.pdf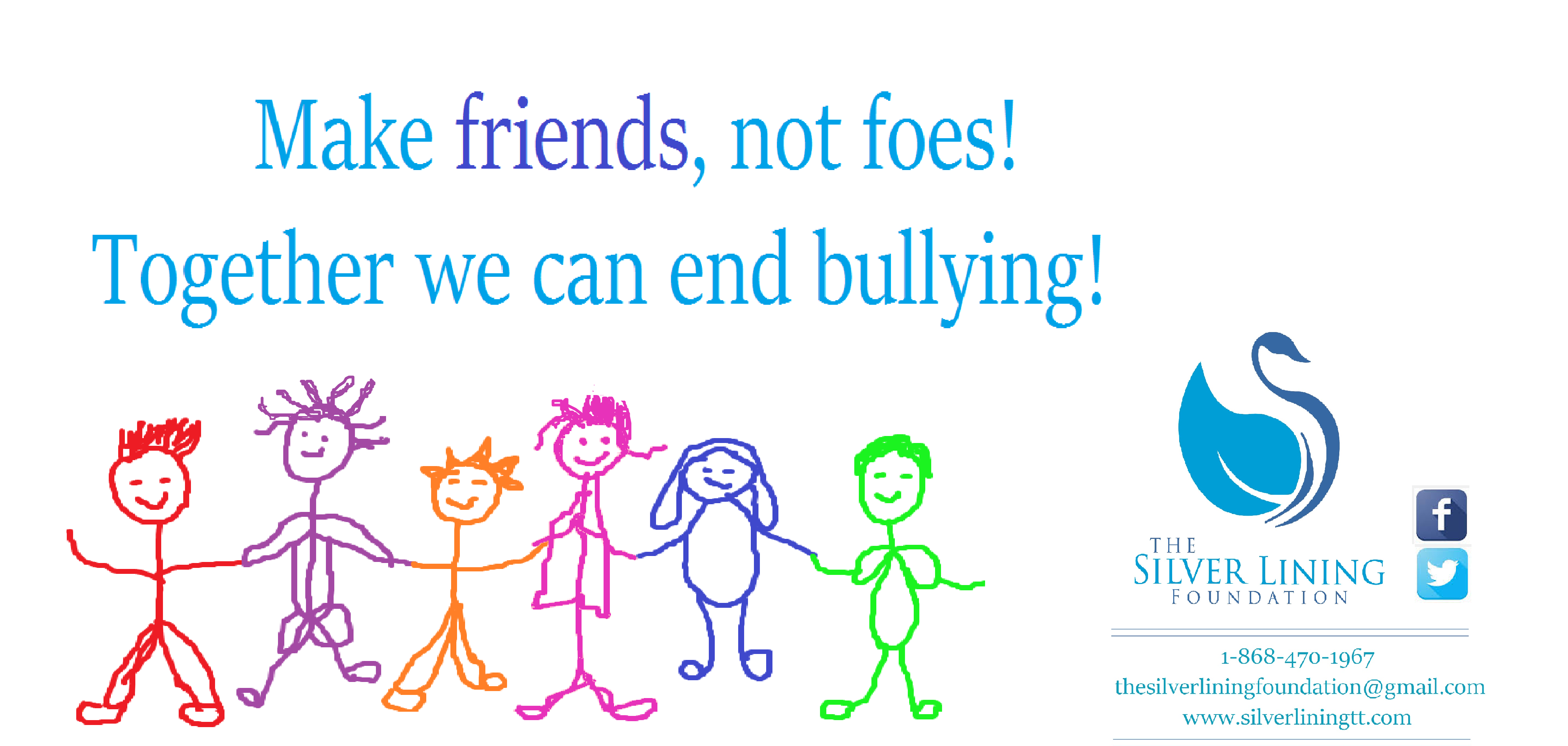 The Silver Lining Foundation is currently conducting the Trinidad and Tobago School Climate Study with approval from the Ministry of Education. The aim of this study is to gain a baseline level with regards to the prevalence of bullying within schools, to outline the issues faced by students in high schools and use this information to further improve intervention techniques and procedures.