Breaking Trinidad and Tobago's Tradition of Bullying
---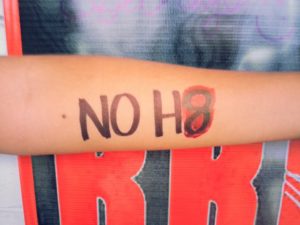 What does bullying mean for Trinidad and Tobago?
Bully (v) – repeated verbal, physical, social or psychological behavior used to intimidate, harass or discriminate against an individual.
Educators talk about a hidden curriculum. These are experiences at school that are not accounted for or dealt with, but do happen throughout a child's school life. Parents talk about that necessary part of growing up where it is acceptable for a child's insecurities and vulnerabilities to be scrutinized regularly. However, for too long has our society allowed bullying as a "rite of passage," asking our students and children to simply "get over it." Every day students are bullied into silence and are afraid to speak up. Children should be able to live freely, without fear and without being suppressed.
To highlight this ongoing issue, three youths attending high school have shared their experiences as victims of bullying. It is worth noting that this was no easy task. For their time and emotional recollection, they are sincerely appreciated. At the end of this article, the conclusion we should come to is that we must change the current mentality and be the generation that starts the conversation and ends bullying.
Joyful Jenny
For sixteen year old Jenny*, the bullying began at the beginning of high school and persisted every day. She is a Form Four student and has been bullied on multiple occasions because she is taller than most girls at her school. She said, almost in a whisper, "Some call me a giant; others make fun of my name." On many long nights, Jenny cried alone at home. With no assistance from her teachers, and too afraid to speak to her family, she often had suicidal thoughts. Her ray of hope came in the form of her sister who is currently a guidance counsellor. She disclosed every fear and emotional pain, and this, she revealed, helped her to feel better about herself. She realized that she was not alone, and that no matter what, she was important. Her self-esteem beamed when her mother introduced her to modelling. On speaking to the models, she realized "that being tall is a rare and beautiful thing" and that she was unique. Jenny found her silver lining, and she now feels glorious.
Adam the Brave
Adam* is a Form Three student with a passion for the arts. At age fifteen, he loves dance and drama, and practices with a performing arts school. He shared his experiences at the primary school level which led to his intense love for the arts, and which he hopes will inspire other youths to be positive. Adam was also teased about his height, but not because he was tall. "I was always shorter than all the other boys," he revealed. He was also bullied because of his weight. He, too, cried alone many times, mostly because he was afraid to speak out about his feelings. He recalled being in a state of depression for as long as he could remember before high school, and begged his parents to keep him home with no reason given. His parents thought his state was due to their divorce and took him several times to a therapist. It was here that he sought an emotional escape. Eventually he told his mother, who also supported him in every possible way. Adam says, with a gleam, "By the time I got to high school, I became aggressive, but I chose to channel my aggression into my art. I learned how to believe in myself."
Silver Lining Luke
Luke*, seventeen years old, is a 2015 high school graduate who has excelled in his academics in many ways. However, unlike Jenny and Adam, Luke was a victim of bullying at home, mostly at the hands of his father. He says, "Being homosexual is the main reason it happened on many occasions." Luke had a difficult time speaking about his experiences, mostly because they are ongoing. His father calls him several derogatory names related to his homosexuality. With fading scars from old wounds, he has had objects thrown at him and has been slammed into walls on several occasions. He says, almost in pain, "Being treated as though you are not even human is the worst feeling in the world. You can hide the pain but it catches up to you when you are alone." Although he has gotten some help from family and friends, Luke still feels broken. However, he has hope that one day things will get better. He had a special message for youths, and, somehow, even for himself: "Even though it seems like you are fighting a battle, and it is as though you are losing, never stop fighting because one day it will all get better. There is someone out there who is willing to help you. The day you conquer every hardship, you will feel so amazing that you won't even remember you were broken. You just need to hold on."
So what now?
Like Jenny, Adam and Luke, there are many children who are victims. From these, and many stories like these, it is very easy to question the Honorable Dr. Tim Gopeesingh when he stated, "that the majority of our student population are disciplined, ambitious and often, well-behaved children." Educators, parents and other youths need to be silver linings. We need to end this tradition of bullying mentality.
* not real name